Orgasms
On a biological level, orgasms can be described as the rhythmic stimulation of highly sensitive body parts / erogenous zones. Usually orgasms are achieved through the stimulation of genitals, however achieving an orgasm is not limited to genitalia. In fact, it is possible to orgasm from stimulation of other body parts (i.e. nipples) and even through thought alone.
Sexual Response
The sexual response can be divided into 4 stages:
✿ Excitement



✿ Plateau of arousal



✿ Orgasm



✿ Resolution
What happens in the excitement phase?
✿ Increased blood flow to genitalia



✿ Heartbeat and breathing increase (almost simulating what happens when you exercise!)



✿ The nervous system is engaged and sends "enjoyment" messages to the the brain's reward system



✿ Nerve endings relay pleasure signals to the brain
What happens in the plateau of the arousal phase?
✿ Contractions in erogenous zones



✿ Experience intensifies



✿ You are on the brink of an orgasm in this phase
What happens in the orgasm phase?
If you have a penis, the anal sphincter, prostate gland and penis muscles will contract
✿ Contraction leads to ejaculation



✿ Roughly 3-10 seconds of intense pleasure



✿ Followed by a refractory period in which another orgasm cannot be achieved
Vagina owners don't experience a refractory period (can allow for multiple and consecutive orgasms)
✿ Orgasms last around 20 seconds



✿ Consists of rhythmic contractions of uterus, vagina, anus and pelvic muscles
Brain takes control during orgasm; dopamine (aka the happy chemical) is released in the brain, and so is oxytocin (the bonding and love chemical)
✿ Orgasms shut down experience of fear or anxiety



✿ Often you can lose control during an orgasm
What happens in the resolution phase?
✿ Body experiences deep relaxation



✿ Heart rate slows to a resting pace
What does it feel like?
If you have never experienced an orgasm, it might be confusing to know what it feels like. Here are some good sources that describe what an orgasm might feel like for you.
"What does an orgasm feel like?" by Come Curious
Best friends Florence and Reed started their youtube channel to talk about sex and everything that has to do with it. One of their best videos by far is "What does an orgasm feel like?". Watch them describe the different sensations they have experienced during orgasm here.
"17 Women get real about orgasms" by Teen Vogue
In this Teen Vogue article, 17 women open up about what an orgasm feels like for them. One woman describes an orgasm as, "Screaming for joy. Feeling everything and nothing at the same time," and another describes it as "The stars emoji mixed with the explosion emoji." To read more orgasm accounts look at the articlehere.
Orgasming for people with penises
✿ Despite common misconception, you don't have to ejaculate to orgasm with a penis.



✿ If semen (white-ish liquid) comes out of your penis, then you have had an ejaculatory orgasm.



✿ Dry orgasms (or orgasms where you don't ejaculate) are just as enjoyable as ejaculatory orgasms



✿ You can also orgasm from the prostate. The prostate is a small gland located behind the rectum and in between the penis and your bladder. Many describe an orgasm from prostate stimulation as a whole body experience.



✿ It really isn't that different to a vaginal orgasm - vaginal orgasms just last roughly 20 seconds longer
Orgasming for people with vaginas
✿ An orgasm can either be through vaginal, clitoral or even cervical stimulation



✿ Clitoral orgasms are probably the most common and usually occur as a result of stimulating (rubbing or vibration) the clitoris



✿ Vaginal orgasms can be harder to achieve, however they do occur! It usually feels like a very intense climax that can be felt all over the body



✿ A cervical orgasm can feel incredibly powerful and can often last for a long time. It occurs when the cervix is stimulated. The cervix is located around the end of the uterus, so it is a bit deeper in the body.



✿ The vagina and uterus will contract rapidly during orgasm
The Orgasm Gap
Studies have shown that in heterosexual sexual encounters betwen cisgendered men and women there is a gendered gap between who achieves orgasms more. In these sexual encounters, men traditionally experience substantially more orgasms than their female partner. For example, in a study of 800 undergraduate students "91% of men versus 39% of women reported usually or always experiencing orgasm in partnered sex".
Facts & Figures
✿ Lesbian women had a significantly higher probability of orgasm than did either heterosexual or bisexual women



✿ The occurrence rate of orgasm did not vary by sexual orientation when it came to men



✿ Some research indicates that cisgendered heterosexual women set the bar for "good sex" incredibly low. In fact, many women descibe good sex as the absence of pain and degradation not the presence of pleasure or an orgasm
How to close the orgasm gap
✿ Educate yourself and your friends about the orgasm gap



✿ In sexual encounters, prioritize pleasure



✿ Acknowledge that the claims regarding biological female inability to orgasm are entirely false



✿ Masturbate! Figure out what you enjoy and then translate that to a partner
Squirting
✿ Squirting occurs when fluid is expelled from your urethra (source)



✿ About 14% of women say that they experience squirting alongside all or most orgasms (source)



✿ 69.23% of women have experienced ejaculation during orgasm



✿ Ejaculate for women comes from the female prostate (aka Skene's gland)



✿ True ejaculation (or squirting) occurs with orgasm, but some researchers have found that it can also occur with g-spot stimulation(source)
Ejaculation vs. Squirting
✿ Ejaculation is made up of prostate enzymes



✿ Fluid released via squirting is diluted urine and ejaculate fluid



✿ Female ejaculation is a thick, white tinted fluid that is released from the female prostate (aka the G-Spot)



✿ Cum or ejaculation comes from the urethra (looks whitish)
Penis Similar to Clitoris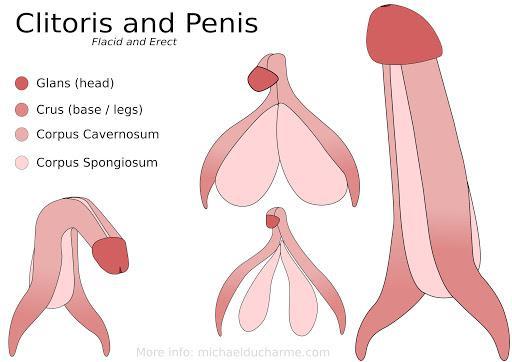 Different Types of Orgasms
There are many different types of orgasms that can arise from different types of stimulation.
Pressure Orgasm
Usually, the pressure orgasm occurs during solo-sex or masturbation. It occurs when pressure is applied indirectly to genitalia and other erogenous zones. This type of orgasm is actually most prevalent amongst children, who often unknowingly masturbate.
Multiple Orgasms
Simply put, multiple orgasms are a series of orgasms that occur, one after the other, in a short period of time.
Relaxation Orgasms
This type of orgasm occurs in a moment of intense and deep relaxation during stimulation.
Tension Orgasms
This is one of the most common types of orgasms. It occurs when the muscles and the body are tense during direct stimulation.
Fantasy Orgasms
As we mentioned before, the brain is overwhelmingly involved in how you experience pleasure during sexual activity. Something that you probably didn't know is that orgasms can actually occur from mental stimulation alone.
G-spot Orgasms
This is a type of orgasm that occurs when an erotic zone is stimualted during penatrative sex.
What is the G-spot?
The G-spot is a small area, about an inch inside the vagina. It's on the upper wall of the vagina (which can be visualized as close to the belly button). While some vagina owners don't notice a difference when their G-spot is stimulated, many do experience orgasms from stimulation and roughly 10% will ejaculate when their G-spot is stimulated.
Penetration vs. Stimulation
For people with vaginas, there are two kinds of orgasms. Both involve the clitoris! One is achieved by stimulating the head or external clitoris (what we usually think of the clitoris) and the other is achieved stimulating the whole of the clitoral and vaginal complex - the internal clitoris, which is achieved through penetration (source).
It's important to note that although these orgasms are functionally different, some people believe they feel the same while others think that they feel different.
Health Benefits of Orgasms
Not only are orgasms amazing because they feel great, they also are known to have a number of health benefits. Some of these include:
✿ Frequent orgasms have also been found to decrease one's risk of cancer and heart disease (source).



✿ They are good for your skin! When you orgasm, your brain releases oxytocin (happy chemical) and decreases the amount of cortisol (stress chemical). This combination makes it less likely that your skin will break out or develop stress related rashes.



✿ Body confidence goes up! One study found that by focusing on how much pleasure our body can experience, you will actually start to associate your body with pleasure.



✿ You can actually sleep better. After experiencing an orgasm, your body releases prolactin, a sleepy chemical, helping you fall asleep easily. It also releases oxytocin and vasopressin, both of which will help you better.



✿ Orgasms will also make you happier. This is because the happy chemical, oxycontin is released during climax.
Discussing Orgasms
When discussing orgasms with a partner, it is imperative to establish a safe space in order to widen lines of communication. Initiate the conversation by opening yourself up and preparing to get vulnerable. Know that it is very common for a partner to have trouble orgasming during sex, this is why open communication is key. During this conversation be sure to set an intention for sex, this can be anything from orgasming, to intimacy, to foreplay, etc. When discussing your pleasure, try emphasizing what your partner does that you enjoy, focusing on the positive to ensure that they do not feel attacked or isolated. Continue to discuss sex when you are not having sex, establish communication about sex and orgasms in everyday life. This ensures that talking about sex and orgasms is not awkward and open communication is set as a standard. Remember to speak up for yourself, if during sex you have not orgasmed yet and you would like to, express that to your partner. Talking about orgasms and pleasure with a partner can be intimidating, but once the conversation is initiated, it can lead to a fulfilling, pleasurable, and satisfying sex life between individuals.
Everyone should be entitled to pleasurable sexual experiences. This includes sexual experiences with a partner. Communication and orgasms go hand in hand when it comes to partnered sexual activity. You might think it's awkward to ask for what you want in a sexual experience - it's not! It's actually really important to convey to your partner or partners what feels good in a sexual experience because it will make it more enjoyable for everyone involved!
You deserve to be with someone - whether it be a one night stand, casual hook-up, or long-term relationship - who prioritizes your pleasure just as much if they do their own.
✿ I really want to experience a ___ orgasm. Would you be comfortable trying that?



✿ I feel like every time we have sex you always orgasm and I don't. I was wondering if we could try doing ___ or ___ so that we both can achieve an orgasm?



✿ I really enjoy giving pleasure during sex, but I feel like it's not reciprocated. Is there something that we can do to make the experience equally enjoyable for both of us?



✿ I've never experienced an orgasm before - can you help me have one?



✿ I really like ___ (nipple stimulation, you playing with my hair) during sex.