Scrotum:
A sac of skin that protects the testes (also known as testicles) and holds them outside of the body.
Testes:
Also known as testicles and existing in a pair, these are the organs that produce sperm and testosterone.
Seminal vesicles:
The glands on each vas deferens that produce fluids that mix with the sperm to make semen.
Prostate gland:
A gland located under the bladder and above the pelvic floor. The prostate gland contains pleasure sensors and produces prostatic fluid which helps to make semen.
Cowper's glands:
Glands on either side of the urethra that make a fluid called pre-ejaculate, which is secreted before ejaculation.
Vas deferens:
Tubes that carry sperm from testes to the urethra.
Urethra:
A tube that can carry sperm or urine out of the body.
Penis:
An organ made of soft, spongy tissue and blood vessels, used for reproduction, urination, and pleasure.
Foreskin:
A loose skin that covers the head of the penis.
Anus:
The opening through which feces (solid waste) leaves the body.
Epididymis:
The tube which transports sperm from the testes to the vas deferens.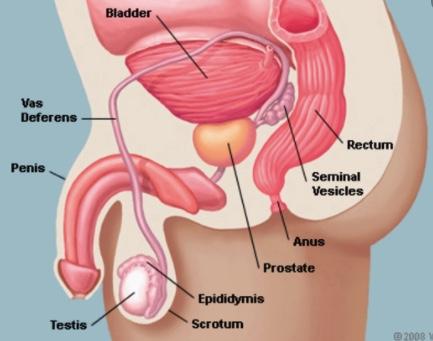 Circumcision:
The surgical removal of the foreskin.
Some parents may choose to have their newborn circumcised due to religious or cultural reasons, while others may deem it unnecessary.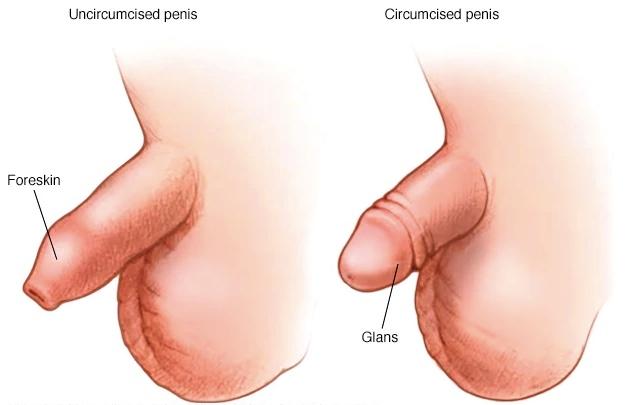 Health Concerns:
Testicular cancer:
A cancer that develops in the testes.
✿ Symptoms: A lump in either testicle and a feeling of heaviness in the scrotum.



✿ Treatment: Surgery, radiation, and chemotherapy.



✿ Prevention: Monthly self examinations are recommended, and they can be done easily! When taking a shower, use your index finger and thumb to gently feel each testicle and pay attention for any lumps.



Prostate cancer:
A cancer in the prostate gland.
✿ Symptoms: Difficulty with urination, blood in urine or semen, frequent urination; although some people don't experience any symptoms.



✿ Treatment: Radiation, surgery, hormone therapy, or chemotherapy.



✿ Prevention: There is no given way to prevent, but a healthy lifestyle including regular exercise, and a healthy diet is recommended to decrease risk. Prostate exams are recommended between the ages of 55-69.



Erectile Dysfunctions:
Difficulty getting or sustaining an erection during sex.
✿ Treatments: Treatable by a doctor through medication.
Ejaculation Problems:
The inability to ejaculate, painful ejaculation, retrograde ejaculation, reduced ejaculation, premature ejaculation, or delayed ejaculation. Talk to your doctor about concerns with ejaculation.
Sources: Mayo Clinic, Healthline, Mens Health